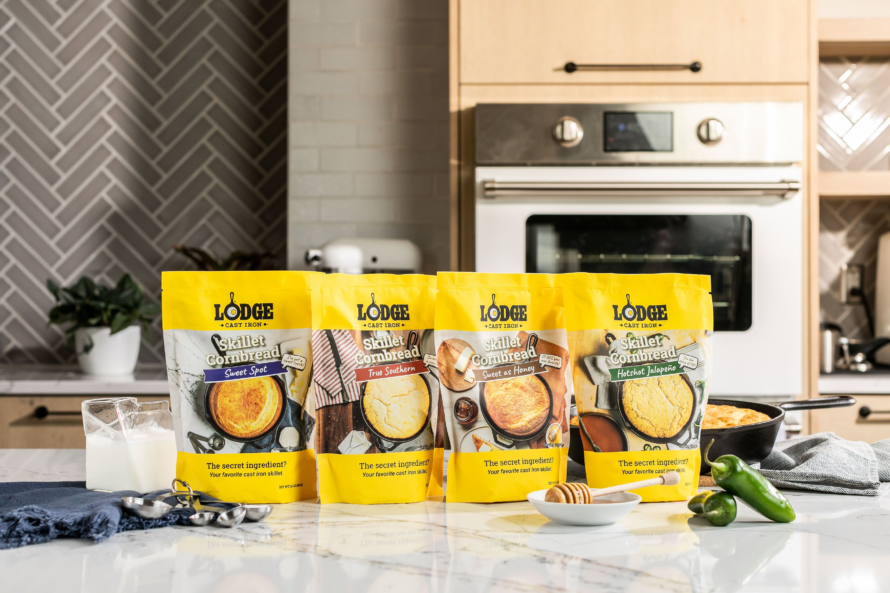 Lodge to release food line made for cast iron cooking, a first for the storied brand
SOUTH PITTSBURG, TN – April. 3, 2023 — Lodge Cast Iron, a leader in cast iron cookware for over 125 years, announces its first line of food products with four Skillet Cornbread Mixes and four Sear Blends, bold, savory spice mixes, helping home cooks everywhere bring delectable sweet and savory dishes to the table—whether they're cooking, baking, or grilling. Developed by cast iron experts and in partnership with OWS Foods, Lodge Skillet Cornbread Mixes and Sear Blends are specially crafted for cast iron cooking. Each one delivers bold taste in every bite—whether you're baking classic, crispy-edged cornbread, or searing flavor-forward proteins on the grill or in your favorite pan.
Lodge Skillet Cornbread Mixes are inspired by authentic American cooking and eating, delivering big flavor in every bite with quality ingredients. After all, nothing brings a better rise, texture, or taste to cornbread than American-made cast iron. Whether you enjoy sweet or savory cornbread, Lodge's four unique mixes span every preference and are baked to perfection with a Lodge Cast Iron Skillet, Wedge Pan, or Muffin Pan for easy sharing. Flavors include:
Sweet Spot: A sweet cornbread that goes with anything and everything
True Southern: Authentic, buttery flavor just like what's made in Tennessee
Sweet as Honey: Honey-buttered cornbread
Hotshot Jalapeño: A buttery base with a bit of heat
Lodge's new Sear Blends are arriving just in time for grilling season and amplify the sear and sizzle of your favorite foods in American-made cast iron. These spice mixes stand up to the heat—exactly why they're called Sear Blends—and are crafted to deliver big flavor at the grill or in the cast iron skillet, featuring these punchy flavors:
Tennessee Smoke: A classic, all-purpose blend that includes notes of hickory and pepper
Southwest Kick: A southwestern blend that is cumin and pepper forward, with a hit of heat
Fireside Garlic & Herb: A versatile blend that delivers savory herbal and garlic flavors
Sizzling Citrus: A zesty blend with citrus and cilantro that's lightly tangy
"Lodge Cast Iron is proud of our over 125-year legacy, and we are excited to enter the food category in a new way with offerings made specifically for cast iron," said Mike Otterman, CEO and President of Lodge Cast Iron. "The Lodge Cast Iron Skillet Cornbread Mixes and Sear Blends were developed by our cast iron experts and OWS Foods to deliver authentic flavor and food we know cast iron fans and enthusiasts will enjoy."
Since 1896, Lodge has manufactured heirloom-quality cast iron cookware at its foundries in South Pittsburg, TN. Whether baking bread, grilling vegetables, or searing steak, Lodge's tested, trusted, and well-loved products are an indispensable part of daily life and help you try, learn, laugh, taste, and create memorable moments. Lodge Cornbread Mixes and Sear Blends will be available on LodgeCastIron.com starting on April 6.
To learn more, visit https://www.lodgecastiron.com/ .
About Lodge Cast Iron
Founded by Joseph Lodge in 1896, Lodge Cast Iron is the oldest family-owned cast iron cookware manufacturer in America. Lodge produces the largest full line of cast iron cookware in South Pittsburg, TN—cast iron's hometown since the very beginning and home of the National Cornbread Festival and Lodge National Cornbread Cook-off. The company has been in continuous operation for 126 years, supporting local workers, and creating cookware that brings families together for generations. For additional information on Lodge, go to lodgecastiron.com and @lodgecastiron on Facebook, Twitter, and Instagram.
About OWS Foods
OWS Foods is a premier manufacturer of custom blended, packaged, dry food products and seasonings. Established in 1988, with a combined three generations of experience in the food industry, OWS Foods has garnered reliance from food and marketing companies worldwide. The company manages a highly acclaimed Research and Innovation lab in Overland Park, KS to support a state-of-the-art production facility in Concordia, MO. Visit https://wholesale.oldworldspices.com/ to learn more.